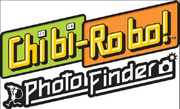 Chibi-Robo! Photo Finder is the fourth game in the Chibi-Robo Series. It was released for the North American 3DS eShop in January 9, 2014. It was developed by Skip Ltd. and published by Nintendo.
This game takes place in the not-too-distant future, when tiny robots can time travel into the past to collect "NostalJunk;, odds and ends from everyday living and bring it back with them. It's always been the Curator's dream to open a NostalJunk museum. With Chibi-Robo's help, that dream could become a reality.
In the beginning, Chibi-Robo is in a small metal room, with a lighted red button in front of him. The player is supposed to then interact with the button. A trap door goes off in the floor, and Chibi-Robo falls through. The Curator and Telly are in the Curator's office, discussing where Chibi-Robo is. Chibi-Robo falls, and bumps off of the Curator's head, and lands on the desk. Telly asks if the two are alright. Then the Curator explains about what NostalJunk and silhouette film are.
Characters
Edit
Drake is wearing his Japanese outfit in all regional versions.
Smoglings also reappear in the game in a side game.
Telly was the name of the original Manager in Chibi-Robo!, and he is the new sleeker model shaped as a cell-phone.
External Links
Edit