Click on a game!
Welcome to the Chibi-Robo Wiki, The #1 Chibi-Robo site on Wikia.
---
Welcome to the Chibi-Robo wiki! We are currently constructing the #1 Chibi-Robo database on the web! Please be patienet while we try out best to make this wiki great!
"What's this? A small door? That's odd. I have no info on it in my memory banks." "Are you okay? I see. I wonder what that was. Oh, well. Nothing to worry about. Dum de dum de dum... Hey sense this small door has your eyes, let's call it a Chibi-Door!"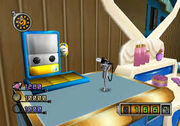 A Chibi-Door is a peculiar door found in Chibi-Robo!. They have Chibi-Robo's eyes, and are manufactured by Citrusoft . A Chibi-Door can be opened by plugging yourself into the nearby outlet, which will drain 100 energy. Behind every Chibi-Door is a substantial amount of Moolah ready to be collected. Once all the Moolah is collected, the Chibi-Door's eyes will shut, and it will go dormant, and will no longer be avalible to open. If you fail to collect all the 
Moolah, you can return later, by reopening the door to collect the remaining Moolah. There are at least 8 Chibi-Doors hidden within every part of the house.
Contributing
If you want to add a page from something about the game, here is an easy way to get started.
Statistics
241 articles since May 23, 2011.
 A lot files uploaded.
5 active users this month.
Who is your favorite toy from the original Chibi-Robo game?
Need help?
If you need help you should speak to one of our admins who can help you in no time with setting up an account, creating a page, blog, or fourm, or getting onto chat. They can also help with banning people, fixing edits, deleting pages, or correcting anything.
If you're brand new make some edits to your user page to tell them what you like and who you are.
If you want to read the rules of the wiki Rule1 and only rule please dont put somthing stupid.
If you need to delete a page just talk to an admin to remove it.