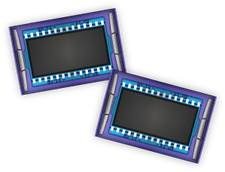 A silhouette film is an essential object used in Chibi-Robo! Photo Finder.
Silhouette films are devices used in capturing NostalJunk in the past. They appear as flat, small, rigid and film like and displays an outline picture of the object. Silhouette films comes in three colors: blue for common objects, green for uncommon ones, and red for extremely rare ones.
Silhouette films are placed in the Chibi-PC to activate. It will then display through the player's Nintendo 3DS camera and show the outline of the picture. In this part, the player must find an object that matches the silhouette film's outline and align it as accurately as possible. Once positioned, the picture can then be taken by pressing the A, L, or R buttons.
The Chibi-PC then evaluates the accuracy percentage of the picture with the outline. Accuracy percentage is affected by light and background. If the picture is under 60%, then the picture must be retaken. If all ten tries are all used up, then the silhouette film will be lost.
Once the picture reaches at least 60% accuracy, the NostalJunk will be fully identified and the player may chose to collect it or retake the picture. Choosing the retake the picture will count as a used try. When decided to collect the NostalJunk, Chibi-Robo will be transported to the real world to collect it.
More silhouette film can be purchased Chibi-PC's shop. They require Happy Points to purchase and they are dispensed at a Silhouette Printer. Available silhouette film on the shop remain anonymous unless a NostalJunk is collected with it. They can also be obtained by collecting 9 NostalDuds or sending 10 Stamps to Citrusoft. In the demo version, they are obtained from the recycling machine.
List of silhouette films
Edit
* = Obtained by acquiring all bronze trophies.
Ad blocker interference detected!
Wikia is a free-to-use site that makes money from advertising. We have a modified experience for viewers using ad blockers

Wikia is not accessible if you've made further modifications. Remove the custom ad blocker rule(s) and the page will load as expected.